The history of Plainfield Township is firmly rooted in the people who lived and worked here. Sandi Helms shared the following memories about growing up in Hale and about her mom who ran Annabel's restaurant.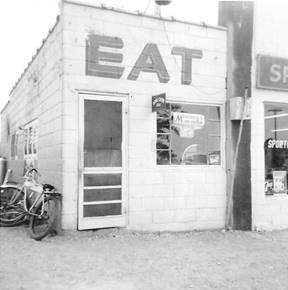 "Annabel was born in Flint, MI on September 26, 1922 to Bert and Martha Chrivia. I am not sure when they moved to Hale, but I know she graduated 10th grade from Hale and then went to Whittemore and graduated 12th grade there, as Hale only went to 10th grade until a few years later.
"She married my dad, Vernon Ranger on August 18, 1940. I know they lived in Flint and Detroit as my brother and sister were born there. I am not sure when they moved to Hale, maybe sometime around 1947. We lived in Flint for about a year or so when I was little because I started kindergarten in Flint but then went to Hale 1st through my senior year. Somewhere along the line my dad hurt his back in a bad fall and couldn't work so it was at this time around 1953 or 54 that she bought out Vine Slosser. Mom supported our family with the restaurant as my dad was never able to work much after his bad fall. Vine still worked for her part time and taught her how to make the most awesome pies. My sister and I were never good pie bakers because she never measured anything. She always used Wyatt's lard for her pie crust. (Now Alward's Market). I believe my uncle Dennis owned the building most of the 23 years she had the restaurant and she rented the restaurant area from him.
"I can remember going to work with her when I was 6 or 7 and cleaning off the counter. I worked a lot until I graduated from high school in 1965. Of course, my brother and sister both worked there until they graduated from high school and moved away.
"Mom usually only had one other person working with her most of the time. It was only a 12-stool restaurant with the grill, fryer, pop case, ice cream case, coffee maker, cash register and candy counter (which I think Kathy Alward might have) behind the counter so the space to get from one end to the other was very tight. All her cups, plates, bowls and ice cream sundae dishes were under the counter that people sat at.
"She usually opened around 6:30 a.m. to get her pies and daily specials going and worked until 2 or 3:00 p.m. when another shift came in to get things ready for morning and the evening supper hour. We had to peel 2 or 3 gallons of potatoes (for homemade mashed potatoes) and cook meat for hot beef and pork sandwiches, which she always had. Her daily specials could be anything from goulash, boiled dinner, hot dogs and sauerkraut, stew, cold plates (in summer), liver and onions, meatloaf, pork chops and dressing and of course every Saturday she had hot chicken sandwiches which was a favorite. Her chili, hamburgs, onion rings, French fries and malts were all favorites with the kids and her many types of pie were every one's favorite. Especially her banana cream.
"She did stay open all night during fair week to feed the people from the fair. Most of the people that raced in the horse races would eat there during fair week and she became good friends with many. During deer season she opened early to feed the deer hunters. I was a cheerleader in high school so after away games I would open the restaurant back up and my friends would help me fix things for the players and any spectators that were hungry. Everyone was good about helping me clean up after we were done.
"One of her regular customers was Mr. O'Callahan. He had the drug store in town. He was quite old, single and rented a room from someone in Hale so ate all or most of his meals at the restaurant. I'm not sure but I think he rented from a Humphrey on East Main Street.
"She also had a jukebox in the front and a pinball machine that all the kids liked to play. I'm not sure how it all fit because the building was quite small. In the back was a small room with the 3 required sinks for washing dishes and a big table to make her pies on and of course prepare other food on. Off to the side was a backroom where her oven was and shelves to store canned food and pop bottles, used and new for pop machine and a door to the small restroom.
"You could ask any of the other people in town about mom's restaurant as most ate there and enjoyed her home cooking. Many called it Annabel's, the greasy spoon, The Eat Shop (from the sign) or the hole in the wall. It was some place that many have great memories of her and her food. It was always hard to find a spot to sit so many stood behind eating their lunch. The school kids use to run down during lunch to eat so she always had extra hamburgs, fries, onion rings, mashed potatoes and things ready for the gang. Most of us ate in the back work or storage area because the stools would be full, and we would have to eat fast so we could get back to school before the bell rang.
"I'm not sure just when she closed but I think it was in 1977. She then went to work for Weldon Scofield at his restaurant, but she didn't work there long because she was hired in at the Senior Center as an Income Service Coordinator (Case Manager) helping the elderly people in the community. She worked for them for 27 years until she became too ill in 2005. Also, during the time she had the restaurant and worked at the center, she also helped establish Hale Fish which she was on the board for 12 years. She also was one of the first who helped get an ambulance in the Hale Area and worked as an EMT for quite a few years. She was very active in Hale First United Methodist Church and Hale Eastern Stars and helped with the Alzheimer's meetings at the Senior Center. As you can see, she was quite an active and busy leader in Hale for many years.
"She broke her hip on Maundy Thursday 2004 at church when she was 81 but was back to work 30 hours a week by July that year and worked another year at the Senior Center until cancer was discovered. She lived a whole year after the doctors said she probably would not live 3 months. She died on July 29, 2006 just 3 months before her 84th birthday."
Visit the online virtual museum: https://plainfieldtwpmi.com/ ( The township website has changed. Articles appear on the front page under Recent Posts. The museum link is under the red button Plainfield Township.)
Visit us on Facebook or email us at: historicalcommission@plainfieldtwp.mi.com The PTHC office is located in the west wing at Eagle Pointe Plaza. Office hours are Tuesday from 10:00 a.m. until noon and 1:00 to 3:00. We welcome visitors.