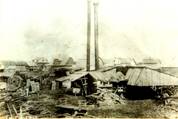 Plainfield Township Sesquicentennial motto is "It all started with a tree." That was certainly true for the lumbermen who moved into the area. Edward Vincent Esmond, known as E.V., operated one of the earliest lumber mills in Plainfield. One mill was east of town and one mill which he owned with Nunn was south of town and later became the Featherstone Mill. One of E.V. Esmond's mills sawed the logs for the first Baptist church, built by Stacy Yawger his son-in-law.
During the Civil War, E.V. was part of Company I, Sixth Regiment of Michigan Heavy Artillery. His military experience included the capture of New Orleans, Louisiana. In 1862 his regiment was on an expedition up the Mississippi River. He was on board the steamer Ceres that attacked rebels in Grand Gulf, Mississippi and he was part of the expedition that destroyed the gunboat Cotton. E.V. was taken prisoner at Lake Maurepas, Louisiana on 12 April 1863. He was paroled in June and was part of an exchange. He re-enlisted 1 February 1864 and was on board the steamer Clara Bell when it was fired on and burned in July 1864. Esmond was discharged 20 August 1865.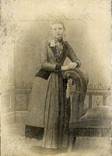 E.V. moved from Albion, Michigan to the Plainfield area following the Civil War. E.V. had 151 acres that he homesteaded. In February 1873 his daughter Jessie was born, and she was the first white child born in Plainfield Township. When Jessie grew up she married Stacy Yawger.
If you have driven in Hale, you would probably have seen Esmond Road. From 1881-1885 the township board meetings were held in Range 5E in the Esmond School, a school started by the Esmond's for their children. The Esmond School was organized in 1875 by E.V. and his brother Clark. This early school was a wood frame building painted white and contained the best equipment for that time and had an excellent library. In the 1968 Centennial booklet, Bertha Graves Webb remembers attending the Esmond School. The school house burned in a forest fire and Bertha remembers the desks being saved. The school was located south and east of Hale.
E.V. Esmond was also involved in politics. He was the Plainfield Township Supervisor from 1877-1878. He was elected again in 1882 and served until 1887.
In 1896 E.V.'s political views caused him to be described as "he's daft over silver." The presidential election of 1896 became heated over which standard to use-gold vs. silver and high vs. low tariffs. Prior to this campaign, Esmond was a Republican. After reading William Jennings Bryan's famous "Cross of Gold" speech in a newspaper, Esmond turned into an outspoken Democrat. During one of the local campaign rallies, he said, "I, being neither a party politician nor seeker after office, can lose nothing by telling you the truth; neither can I gain anything by lying to you; therefore, what I have to say I will endeavor to keep within the bounds of truth." His long-involved dissertation on the monetary question caused Republicans in attendance to call him insane. In July 1896, Esmond was taken into custody at Hale by the Republican County Sheriff, Thomas Cox. He was taken to Traverse City State Hospital even through two physicians had not examined him and there had been no hearing in probate court. He was held for four weeks before being released. A joint resolution of the Michigan State legislature was offered for his relief "on account of being illegally confined in the Northern Michigan Asylum." The resolution empowered the auditor general to investigate, adjust and settle any claim against the state, not exceeding $500. (More information may be found in "Old Days in Iosco" 1890's by Neil Thornton.)
It is interesting to note that on 1 April 1899 Serg't E.V. Esmond copyrighted a game called "Robbing the United States Treasury." Descendents of Esmond still have copies of the rules for this game.
The first post office was in E.V. Esmond's home with Captain F. Gardner carrying the mail to and from Tawas when he went for supplies.
E.V. Edmond organized a Sunday school in the Esmond School. He became the superintendent of the Sunday school that had 35 children.
Around 1900 E.V. set up a library in the township hall. The library received $200 a year and managed to buy at least 200 books with the money.
The first meeting of the Hale Grange was held in the township hall on 10 February 1903. E.V. Esmond was appointed the chairman.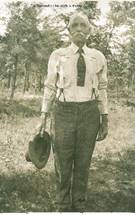 In 2006, Faye Yawger Johnson, granddaughter of E.V. Esmond wrote about him. She was 19 years old when he died. Her grandpa lived in a small house behind their home and ate all of his meals with them. "Grandpa thought his life was perfect as he had a nice little house and he could do what he wanted to do, when he wanted to. He had many wonderful books and he spent many hours reading.
As a child Grandpa would put me on his lap and read to me. A book he loved to read to me (and I loved the book too) was "Around the World in 80 Days" by Jules Verne.
Mother always referred to E.V. as "Father." E.V. was very important to all of us. I remember when he first received his Civil War Pension; he asked Mother what he was going to do with all that money. Mother reminded him that it would make his living and his needs easier. Grandpa ended up giving most of it away. There was a family north of town who needed food and clothing and Grandpa would often walk north of town with a basket for them. This is what he did for a lot of people.
As far as Grandpa's personality, he smiled a lot; he was very outgoing and had that special personality where he could talk to anyone. Grandpa was an exceptional man and a wonderful grandfather."

Following the death of three of his young children, E.V. donated 10 acres of land for a cemetery in Plainfield Township. The first burial was in 1888. E.V. lived to be 80 years, 4 months and 13 days old. He died on 6 January 1925 and is buried in the cemetery that bears his name; Esmond Evergreen Cemetery. The Johnson family donated a new cemetery sign in honor of E.V. Esmond who meant so much to his granddaughter Faye Yawger Johnson. Faye celebrated her 100th birthday in 2006 and the gift of the sign was part of their celebration. She passed away at the age of 102. Special thanks to Dean and Bev Johnson for sharing their family history and photos with me.
Visit the online virtual museum: http://plainfieldtwpmi.com/museum.html
Visit us on Facebook or email us at: historicalcommission@plainfieldtwp.mi.com The PTHC office is located down the hall from the library in Hale. Office hours are Tuesday from 10:00 a.m. until noon. You can now reach us at 989-218-3200 on Tuesdays or leave a message.